It may seem like there's nothing you can do about stress. The bills won't stop coming, there will never be more hours in the day, and your work and family responsibilities will always be demanding. But you have a lot more control than you might think. In fact, the simple realization that you're in control of your life is the foundation of managing stress. Stress management is all about taking charge: of your lifestyle, thoughts, emotions, and the way you deal with problems. No matter how stressful your life seems, there are few techniques which can take to relieve the pressure and regain control.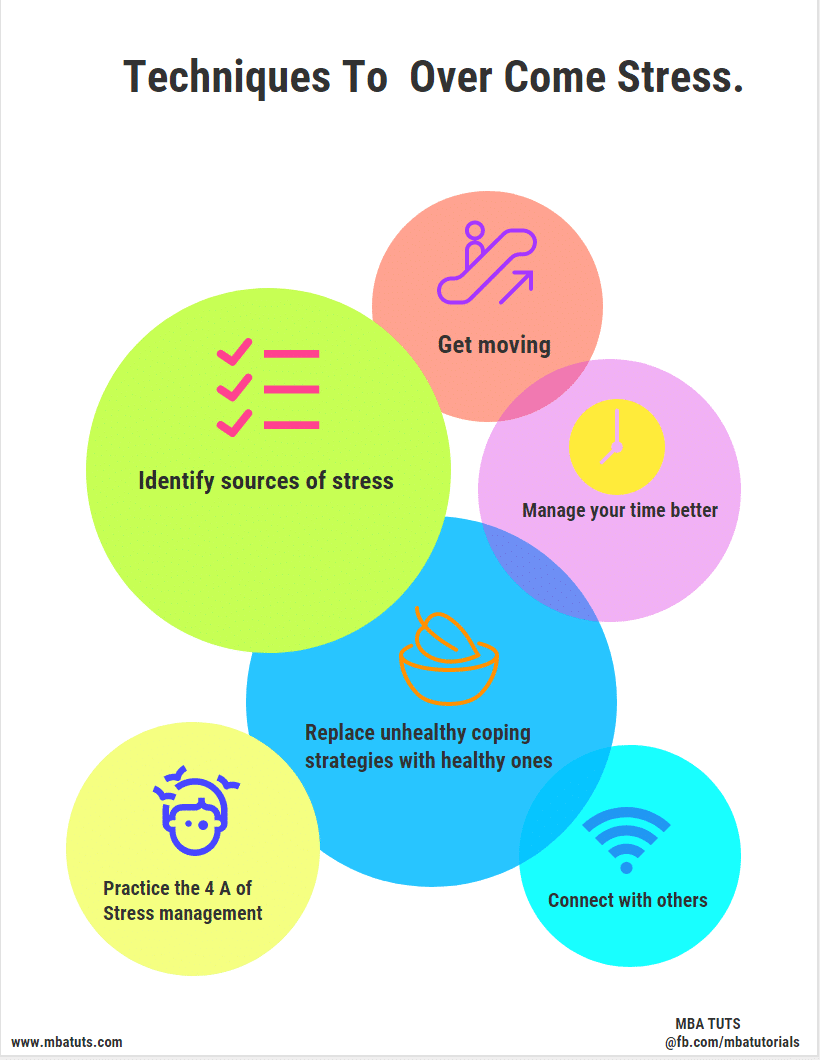 1. Identify sources of stress
Stress management starts with identifying the sources of stress in your life. This isn't as straightforward as it sounds. While it's easy to identify major stressors such as changing jobs, moving, or a going through a divorce, pinpointing the sources of chronic stress can be more complicated. It's all too easy to overlook how your own thoughts, feelings, and behaviors contribute to your everyday stress levels. Sure, you may know that you're constantly worried about work deadlines, but maybe it's your procrastination, rather than the actual job demands, that is causing the stress.
2.Replace unhealthy coping strategies with healthy ones
Think about the ways you currently manage and cope with stress in your life. Your stress journal can help you identify them. Are your coping strategies healthy or unhealthy, helpful or unproductive? Unfortunately, many people cope with stress in ways that compound the problem. If your methods of coping with stress aren't contributing to your greater emotional and physical health, it's time to find healthier ones. Neither single method works for everyone nor in every situation, so experiment with different techniques and strategies. Focus on what makes you feel calm and in control.
3.Practice the 4 A of Stress management
While stress is an automatic response from your nervous system, some stressors arise at predictable times—your commute to work, a meeting with your boss, or family gatherings, for example. When handling such predictable stressors, so you can either change the situation or change your reaction. When deciding which option to choose in any given scenario, it's helpful to think of the four A's: avoid, alter, adapt, or accept.
4. Get moving
when you're stressed, the last thing you probably feel like doing is getting up and exercising. But physical activity is a huge stress reliever—and you don't have to be an athlete or spend hours in a gym to experience the benefits. Exercise releases endorphins that make you feel good, and it can also serve as a valuable distraction from your daily worries.
While you'll get the most benefit from regularly exercising for 30 minutes or more, it's okay to build up your fitness level gradually. Even very small activities can add up over the course of a day. The first step is to get yourself up and moving. Here are some easy ways.
a) Put on some music and dance around
b)Take your dog for a walk
c)Walk or cycle to the grocery store
d )Use the stairs at home or work rather than an elevator
e)Park your car in the farthest spot in the lot and walk the rest of the way
f)Pair up with an exercise partner and encourage each other as you work out
g)Play ping-pong or an activity-based video game with your kids
5 Connect with others
There is nothing more calming than spending quality time with another human being who makes you feel safe and understood. In fact, face-to-face interaction triggers a cascade of hormones that counteract the body's defensive "fight-or-flight" response. It's nature's natural stress reliever (as an added bonus, it also helps stave off depression and anxiety). So make it a point to connect regularly—and in person—with family and friends.
Keep in mind that the people you talk to don't have to be able to fix your stress. They simply need to be good listeners. And try not to let worries about looking weak or being a burden keep you from opening up. The people who care about you will be flattered by your trust. It will only strengthen your bond.
Of course, it's not always realistic to have a pal close by to lean on when you feel overwhelmed by stress, but by building and maintaining a network of close friends you can improve your resiliency to life's stressors.
6. Manage your time better
Poor time management can cause a lot of stress. When you're stretched too thin and running behind, it's hard to stay calm and focused. Plus, you'll be tempted to avoid or cut back on all the healthy things you should be doing to keep stress in check, like socializing and getting enough sleep. The good news: there are things you can do to achieve a healthier work-life balance.
Don't over-commit yourself. Avoid scheduling things back-to-back or trying to fit too much into one day. All too often, we underestimate how long things will take.
Prioritize tasks. Make a list of tasks you have to do, and tackle them in order of importance. Do the high-priority items first. If you have something particularly unpleasant or stressful to do, get it over with early. The rest of your day will be more pleasant as a result.
Break projects into small steps. If a large project seems overwhelming, make a step-by-step plan. Focus on one manageable step at a time, rather than taking on everything at once.
Delegate responsibility. You don't have to do it all yourself, whether at home, school or on the job. If other people can take care of the task, why not let them? Let go of the desire to control or oversee every little step. You'll be letting go of unnecessary stress in the process.
For more articles of stress click here